GET TO KNOW ELLE
Celebrity Manicurist shares her top nail tips & tricks, favorite
products & DIY videos that help you get the salon look at home.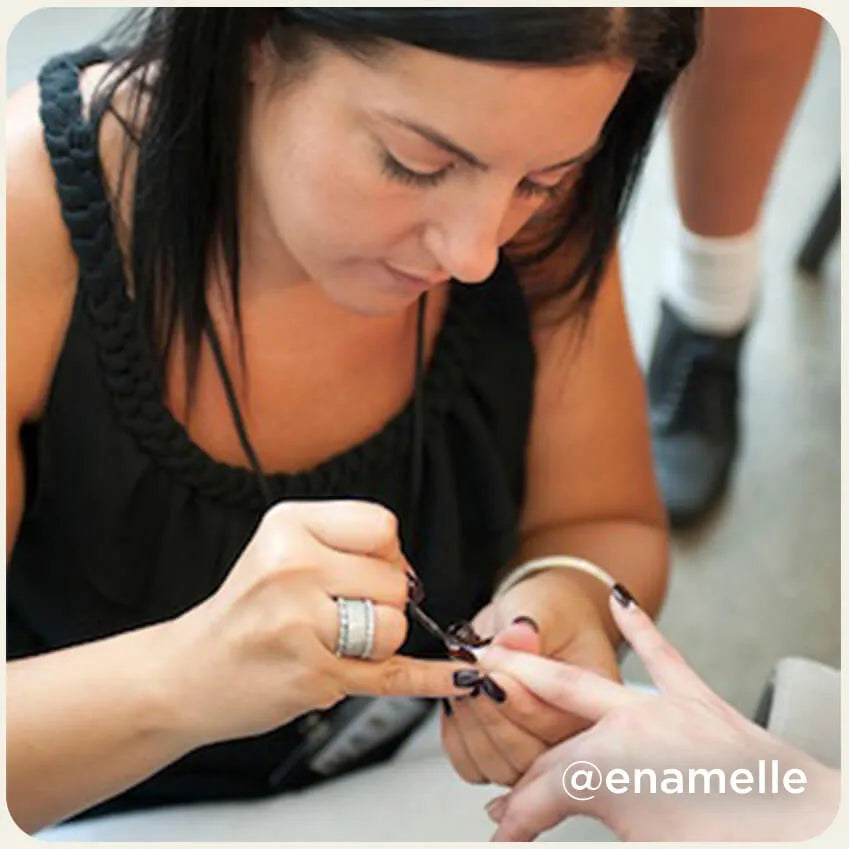 Meet the Mani Expert
A natural born nail artist, Elle opened her own business at age 17, with over 80 clients per week. Now one of the industry's top stylists, Elle is world renowned for her cutting-edge nail shaping, and her understanding of color, texture and trends.
For Elle, nail styling means creating the ultimate glamour. "You're never fully dressed without a manicure", she explains. "A beautiful nail is the epitome of polish and sophistication". 
TIPS & TRICKS
How to "size" KISS nails?

1st timer? If so, sizing is trial and error (but jot down sizes¬, which are identified on each nail, so next time it's a breeze).

Try different nail sizes to find those where the sides of the KISS nail comfortably fit the sidewalls of your own nail.
If your natural nail shows on either side, the KISS nail is too small.
If you are in between sizes, size down so that nail does not overlap with skin.
Pro Tip: If you can't find a perfect fit you can filed down a wider size nail to fit
How to file false nails?

If KISS nail tips are smooth you don't need to file them. To file, use light and gentle strokes in one direction. Never "saw" back and forth because it can damage the nail.
How to glue on false nails?

Apply enough glue to avoid air pockets, secure adhesion, and extend wear but not so much that it drips off nails.

Apply pink nail glue (included) or any KISS brush-on or nozzle tip glue (sold separately) to back of KISS nail.
Apply glue to natural nail.
Align KISS nail with cuticle, gently press on & hold for 10 seconds. Don't file or exposed your hands to water for an hour, after which you can use enclosed file to gently file smooth if needed.
How to use adhesive tabs?

KISS Tab to Go adhesive tabs (sold separately) turn glue on nails into press ons so they are easier to change up and to remove than glue. Use a point tip tweezer for easier application. Simply match tab numbers to your KISS nail numbers. Before peeling or applying, make sure nails are clean and prepped. After peeling tab from the backing, apply to artificial nail and press & smooth. Then peel off film from tab, align artificial nail with cuticle and press down firmly starting in the middle, then on each side, onto your natural nail.